Photo Booths Are About Fun!
Make and Capture memories that will last a lifetime!

The"Selfie" is taking the nation by storm. Our custom photo booth steps it up a notch by adding an elegant attraction to your event along with props, professional photo equipment and instant prints of all your silly poses. A&T's House of Bounce prides itself on making memories that last a lifetime! Now you can capture those memories with our new for 2017 Custom Photo Booth. Our booths are designed so your guests can let loose and take in the moment. No shortcuts and only the best, high quality photo strips that will last for years to come!
Attendant and Props
White Back Drop
Unlimited Photo Sessions
Color, Black & White or Sepia Prints
Double Prints
Standard Graphic Logo
Standard Welcome Screen
Choose from 2,3,4 & 5 Hour Session

We are a husband and wife team here to serve our clients' needs and make sure the photo booth experience you want is exactly what you get. Working with us is truly an exclusive experience that only a select number of lucky couples get to enjoy each year! We have thought of it all. We offer professional grade equipment (all backed up), out of this world service, and endless ways to personalize your booth!
Check out our Photo Booth Promo!
Photo booths are all about fun! We offer top of the line equipment with all of the hottest features! Amaze your party guests with endless versatility of our custom booths! Here is a quick promo video of our state of the art photo booth! Our units fit a wide range of events including but not limited to, Weddings, Graduation Parties, Baby Showers & Corporate Functions. Watch the video and then call us for a free quote!
Choose from 3 Booth Styles!
We offer several different Booth Configurations sure to work at any party or event
Do you want to feel like you are walking on to the red carpet for a Broadway premiere? Our open air photo booth is perfect for the Hollywood star performer in all of us! Choose from one of our standard backdrops or we can have one custom made with your company logo, family crest or insignia. The sky is the limit..
We offer our Custom Event Enclosure.for the more formal occasions such as weddings, retirement parties and corporate events. This booth can be customized to meet the needs of your special occassion
Inflatable Enclosed Booth w/ Led Lighting
Looking for a hip new attraction at your graduation party or Bar/Bat Mitzvah? Then Look no further! Our Inflatable Enclosed Booth comes complete with Led Lighting and is sure to be the talk of the party! The perfect addition to any high energy event!
Custom Options and Upgrades
All of our booths can be fully customized. We offer a wide variety of upgrades to make your booth exactly what you are looking for!
We can choose from 1,000's of templates and even customize our own. Choose this option and we will include the unlimited photo strip upgrade. This will allow your guests to print out as many copies as they would like! Great way to make sure your guests get the print they want!
Custom 4" X 6" Post Cards
If you really want to send your guest's home with the best print possible, choose our custom 4" X 6" post card upgrade. We will custom design a template that sets your prints apart from our competition. This option prints one standard post card per session or can be bumped up to unlimited prints depending on your needs!
Let your imagination run wild with our fully capable green screen photo booths. We can now digitally place your photograph on the backdrop of your choice. Endless options are possible. Call Now to speak with one of our party staff to discuss your event!
We believe in providing our clients with the personal touch! We can customize the entire photo booth experience from the welcome screen right to the thank you page. We can add a video, quiz or contest to make the experience that much more enjoyable. The possibilities are endless!
Add a little glamour to your booth and give your guests the VIP Treatment! Add up to 4 chrome stanchions with red velvet ropes and a red carpet!
Video Slideshow Monitor or Projector
Add a little glamour to your booth and invite your guests to view all the action inside with the addition of an external monitor! We will gladly upload all the nights activities and play a slideshow for your guests viewing pleasure! Take it up a notch and add our projector with screen for a larger viewing area.

Purchase a scrapbook and your photo host will assist your guests in adding photos, signatures and more during your event! It will be a keepsake you will cherish forever with your loved ones.
Social Media & Photo Sharing
What good is taking selfies if you can't share them? We offer many different ways to share your prints. Our booths can easily send photo's to an email address or upload instantly on Facebook! We can even offer you a flash drive at the end of the night with all your digital prints. System must be hooked up to Wi-Fi provided by the customer.
The standard photo booth comes with a white or black backdrop. We offer an upgrade to a variety of different backdrops. We can even custom order backdrops with your logo or family crest. Please call to discuss available options.
Ready to order your Photo Booth?
Simply follow the link below and reserve your custom photo booth. Choose Open Air style or Full Enclosure. Be sure to enter the times that you want the unit operational. Once we have your information set up in our system, a party specialist will contact you and walk you through how to customize your booth experience to make it the perfect addition to your event!
Order Now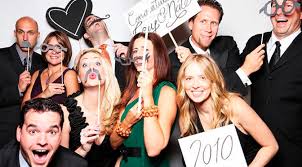 Still need more Information before ordering? Not a problem!
Contact Us Now For a Free Consultation
We generally respond to all messages within 24 hours if not sooner. For faster response, call our office and speak to one of our party specialists @ 845-787-0515.